Parents need to know that "Star Wars Pinball" is an arcade game for the Nintendo Switch.
Inspired by the sci-fi saga, the 19 tables in this collection cover everything from the iconic movies to the cartoons and the individual characters that are world famous and loved. Like the movies, these tables have no inappropriate content. There are moments when characters use blasters to shoot someone, and others where characters engage in lightsaber fights, but there's no bloodshed or gore. There are also some lines of dialog that are slightly suggestive or threatening, but that's it. Obviously, these tables are based on a long-running, multimedia franchise that encompasses movies, TV shows, video games, toys, apparel, and other fun stuff.
In "Star Wars Pinball," you get to play 19 original pinball tables based on various aspects of the "Star Wars" saga. But while none have stories, they do explore iconic moments from the movies and TV shows. They also recreate the physics and sound effects of real pinball machines by having balls that both move and sound like they're moving on a real pinball table. Except that these tables also defy expectation by also having elaborate mechanics you could never do in a real table unless you had an endless supply of cash. Players can also use Force powers to affect action on the table, like slowing down the ball or multiplying points for a while. Additionally, apart from simply picking and choosing from these tables, players can choose to align themselves with the Light or Dark side of the Force, making players part of a battle in online rankings to see which side wins over time.
This collection of pinball tables is as fun for fans of the titular sci-fi saga as it for serious pin-heads. Like previous editions of this collection, "Star Wars Pinball" has 19 different original pinball tables that are not only based on the iconic movies, but also the TV shows and the characters in them. While none are based on any real "Star Wars" pinball machines, they do boast realistic physics and sound effects. But what really makes them fun is how they also have unrealistic aspects that not only include multiple viewpoints but also such elaborate mechanics as hidden sections, mini-games, and TIE Fighters strafing the table.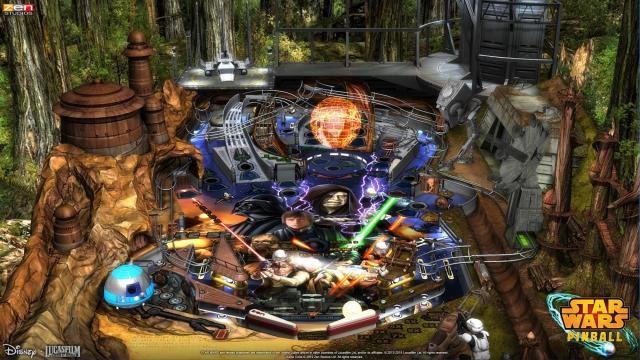 Star Wars Pinball (Zen Studios)
Zen Studios
As for how well this works on the Switch, well, it's best played on your TV but works in handheld mode as long as you don't care that the score text is relatively small. It also helps that these versions of the tables are the same as in other editions. Which, of course, means the best tables on other systems, such as Return of the Jedi, Solo, Droids, Rogue One, and The Force Awakens, are highlights here as well. Ultimately, this is a terrific collection that will remind players that The Force is strong with "Star Wars Pinball."
Recommended for ages 10 and older
Positive messages: 2 out of 5
Positive role models: 3 out of 5
Drinking, drugs, and smoking: 0 out of 5
Platforms: Nintendo Switch
Release date: September 13, 2019
ESRB rating: E10+ for fantasy violence, mild language
Common Sense Media is an independent nonprofit organization offering unbiased ratings and trusted advice to help families make smart media and technology choices. Check out our ratings and recommendations at www.commonsense.org.
©2019 Common Sense Media
Copyright 2019 Tribune Content Agency.