William ParkerGetty Images
When asked to imagine what an A-Listers house would look like, would you envisage a sprawling swimming pool, novelties like a pinball machine, a home bar and a stripper pole?
Well, if so, we'd say you'd be pretty much bang on the money, judging by Cara Delevingne and Poppy Delevingne's Los Angeles home.
The model and actress sisters gave a behind-the-scenes tour to Architectural Digest this month and, after seeing the pictures, we can confirm it's pretty dreamy.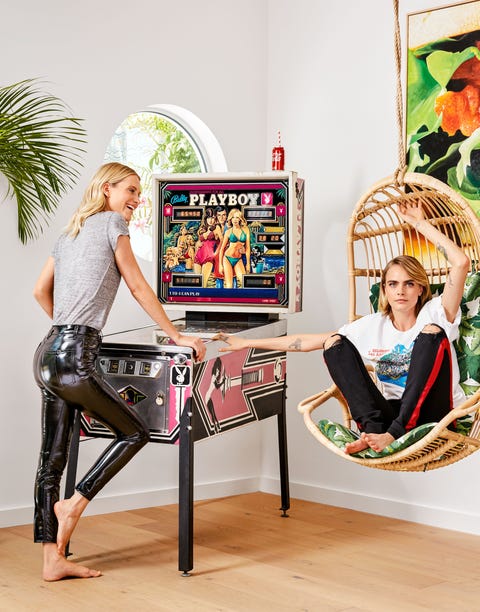 Trevor Tondro/Architectural Digest
The Delevingne sisters – who are known to be extremely close along with their older sister Chloe – have definitely gone for a flamboyant art deco, seventies vibe, with their gorgeous stateside home. Featuring clashing pink and green plush velvet chairs, palm illustrated wallpaper and a rustic bar with vintage barstools, it evokes images of Mad Men's Don Draper's abode, when he relocates to Los Angeles in the late 1960s.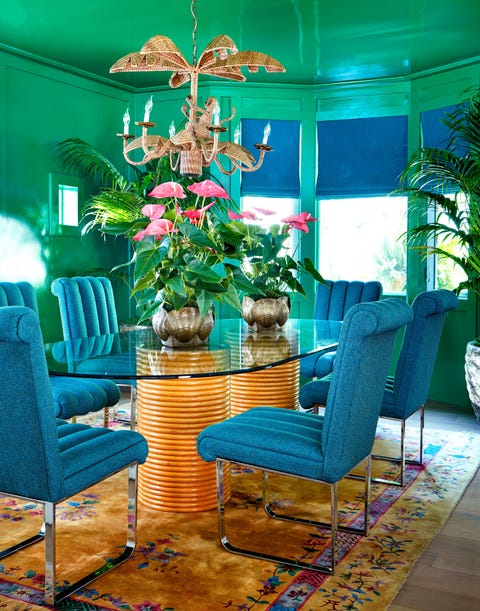 Trevor Tondro/Architectural Digest
Other ostentatious interiors which caught our eye include the monkey and toucan-featuring wallpaper in Poppy's bedroom, a vintage Playboy pinball machine and what is essentially a strip club: dark green velvet sofas surrounding a gold stripper pole in the middle of the room and artwork of nude women.
The sisters said they decided to live with one another because it was their chance 'to build our dream sister house'.
'LA can be a lonely place,' Cara told Architectural Digest. 'You really have to make an effort to reach out to people.. Since one of us was always coming here for one reason or another, being with family just made sense.'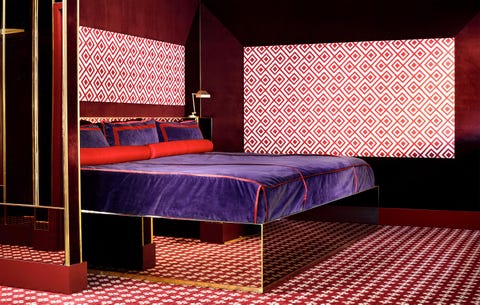 Architectural Digest/Trevor Tondro
Explaining their personal interior design taste, Poppy said she was behind the bulk of the re-design yet Cara still put her touch on a few things, especially when it comes to her bedroom which features an 11 foot wide bed.
'The room feels like the Playboy Mansion with a touch of Art Deco and a David Hicks pattern thrown in for good measure,' she said. 'I wanted to reclaim the concept of the bachelor pad and make it my own.'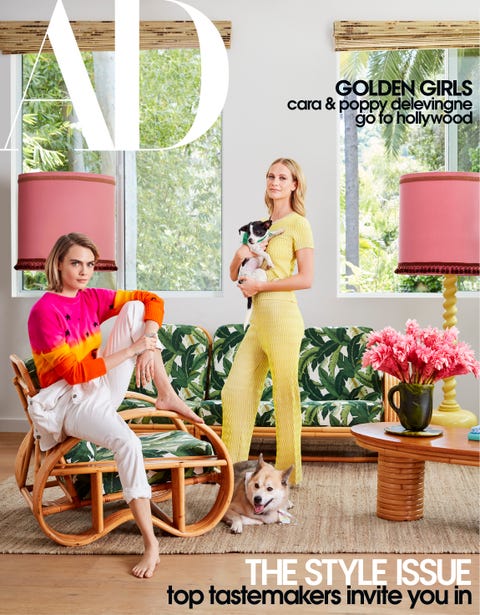 Architectural Digest
Commenting on the mini-nightclub in the house, which also features disco lighting and a mirrored ceiling, Cara looked to noughties rapper Nelly, and his jam 'Hot In Herre' for inspiration.
'Like he said, it's important to have a friend with a pole in the basement.'